Welcome
The faculty and staff of Trinity School are thrilled that your child will be joining our community of learners in the fall of 2023! It has been a pleasure to get to know your family through the application process and we look forward to getting to know you even better in the coming months. In the meantime, we have put together some information to introduce you to life at Trinity School at River Ridge. If you have any questions, please connect with admissions:

Catherine Mulvey, Director of Admissions, [email protected]

New Family Events
New Family Picnic (dinner and entertainment provided)
Wednesday, May 15, 2024, 5:30-7:30 p.m.
Welcome from the Parent Service Association (PSA)
Every Trinity parent is a member of the Parent Service Association (PSA). The mission of the PSA is to facilitate a healthy social life for students through monthly class parties. Social events are an important part of our students' lives. With the assistance and support of a network of Class Parents, Trinity parents take an active role in planning and hosting class parties. For more information, see the Parent Handbook on the Parents Page. Our PSA chairs, Sean and Jennifer Dunn look forward to connecting with you soon!

Welcome message from Athletics
At Trinity School, we encourage broad athletic participation. Your family will be contacted by Pat Buchanan and Chezarae Distelzweig in our Athletics office with more information about how to participate in the athletics program at Trinity School.
Spirit Wear
Shop for Trinity spirit wear by visiting our online store!
Carpooling
Carpooling is an integral component of life at Trinity School. Contact Catherine Mulvey at [email protected] to discuss carpool options and connect directly with current Trinity families in your area.
Public Transportation
Trinity families in south Minneapolis can now use the Minnesota Valley Transit Authority bus system to travel to school. MVTA Bus Route #436 is a 26-minute express bus from the 46th Street light rail station to Trinity. Please contact Catherine Mulvey at [email protected] to connect with families utilizing public transportation.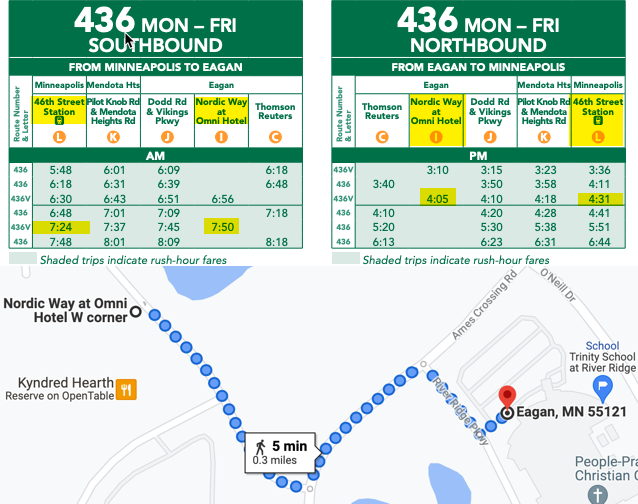 Volunteering with Trinity
Volunteering is a key way that parents support the students in their life at Trinity, get to know each other, and develop community. Trinity parents are asked to sign up for volunteer positions for both School Events and for Class Parties. Stay tuned for more information from our Events and Volunteer Coordinator, Lucy Cunningham, about how to sign up for events each school year! In the meantime, please contact Lucy with any questions you might have: [email protected].

Parent Resources
Information about the following topics can be found on the Parents page of our website.
2023-2024 Academic Calendar
School Supply List
School Uniform Information
Parent Handbook
Again, welcome to the community! Please do not hesitate to reach out if we can assist in any way!